Quick picture of life before My Space entered was that my free time was taken up by my family, mostly our twin 6 yr old boys, my love of crafting, a lot of housework, and watching my favorite weekly shows. We live on 15 acres way back of the road and life revolved around it, my family, and my beloved crafts.
Fast forward ~~> Summer this year (2oo8)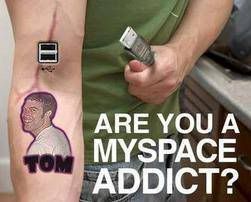 One day, like many before, a friend was over while we were doing kid things, swimming, sliding.....anything to tire them out and get us together. My friend, knows who she is because I still blame or accredited her for getting me "sucked in", and she alway laughs was already addicted, even if she was still in denial stage. Anyway while chatting she mentions this "My Space" and I have no clue. I had a brand new computer as a mom and a craft not, I was really only used it to find patterns, or look up some symptom one of the boys had, or keep in touch with the teachers and boy scout leaders. We go my office, which till then had rarely even been uses....and now is the "go to spot for looking for Mommy" and she pulls up her My Space profile page, where I am amazed and amused by her cute comments, graphics stating her love for her kids, her life.....and I notice a lot of people that I know are on the My Space. I had only heard about it on T.V. as far as parents watching out for their kids....which is mega important, but that was all the real knowledge I had about it.....till that summer day.
SO a few days later I sign up and with in days am sucked in....and thats when I hearing the question
"WHERE IS MOMMY?"
Since then I have expanded my social network 20 fold , and will detail as I post, but My Space was the beginning. I still actively use my My Space accounts, yes I said accounts ~ tell you all about having two online identities-- or what I have learned about it (not like trying to fool anyone but one for a business or organization)
If you have not checked out My Space it is still a great way to connect and just about everyone ~ from Rock Stars, to Comedians, to Movie Stars, all kinds of Wonderful Organizations, non-profits.
Also My Space has launched a newer more streamlined, even more- like anyone thought that was possible, customizable version. My next post I will give some sites to get good graphics, some tips I have learned from trial and even more Error, info on a few of the apps (applications) they have to add, some time saving tips and just some cool links I have discovered.
So go sign up...and by the time you do I will post those for you!
Here is it made easy for you